Pregnancy & Paediatric Care
At Universal Chiropractic, we are particularly passionate about providing natural and non-invasive chiropractic care to mothers-to-be and children of all ages.
Pregnancy
You may wonder why it's a good idea to see a chiropractor during pregnancy. We assess the biomechanics of the pregnant woman's pelvis. Whether you have pain or no pain, it's wise to get checked to see if your pelvis is moving well so the pelvis can accommodate the baby.
Most women come in with a sore pelvis, hip or back pain. For many women, chiropractic can help to alleviate pregnancy-related pain. We recommend chiropractic care throughout your pregnancy. We have specialised equipment in the practice , to help pregnant women feel comfortable.
Paediatric Chiropractor
Many parents choose to bring their children to a paediatric chiropractor to assist them in rectifying bodily misalignment and developing a healthy nervous system. When a child's nervous system is robust, they may enjoy many benefits, including but not limited to:
Better sleep
Brain growth
Healthy development
We will evaluate your child's nervous system to address any restrictions and identify appropriate methods of action to best accommodate your child's needs.
Dr Kathy Knight, our principal paediatric chiropractor, provides exceptional customised care as she acknowledges no two children are alike. For example, a child may come in at age 4 because they experience language delay. This will be a different kind of assessment compared to a child who has great language skills but has challenges with sleep. As a result, she will tailor her care to meet the unique requirements of every child.
Dr Knight has ample experience as an infant chiropractor and has completed multiple training courses. As a result, she provides exceptional care and takes pride in creating a warm, welcoming and comfortable environment for all her patients.
Contact us today if you have any questions or if you'd like to assess whether a child chiropractor is the best fit for you and your child.
What to Expect
When you come in, you and your child will be greeted by our front desk chiropractic assistant. Our fun and friendly environment helps set the stage for a great visit for your child.
You will be asked to complete a history form that asks for details of your pregnancy and your child's birth. We'll ask you about your medical history or anything that may have happened. You will be asked if your child had any injuries. Next, your child will be brought into the assessment area.
Our chiropractor will have a conversation with you about what your concerns are for your child. Next the evaluation will be performed. Dr Kathy (chiropractor) will check your child's spine, hips, pelvis and cranium for correct biomechanics and correct movement. She will discuss with you what is causing your child's particular concern.
Our chiropractor will check the following to determine their level of development:
Primitive Reflexes
Tone
Fine & Gross motor skills
Sensory Processing
Balance & Posture
FAQ
Will it be painful for my child to get adjusted?
Dr Kathy (chiropractor) uses very light and gentle techniques on children, which are not considered to be painful at all.
How do you adjust an active toddler?
At our practice, kids can be kids. As a mum of three, our chiropractor knows how to relate to children. She can adjust children while they're playing games and can observe their movements.
Do you have additional training to care for babies and children?
Dr Kathy (chiropractor) has undertaken additional training in chiropractic care of children and infants from the International Chiropractic Pediatric Association (ICPA). She is certified by the ICPA and is certified in the use of the Webster technique. Over the last two years she has been undertaking the Neurodevelopmental Paediatric Diplomate program.
How can chiropractic benefit older children?
Primary school aged patients often have back pain from wearing too-heavy backpacks. Preteens and teens, who are often looking down at their smartphones or other digital devices, can develop postural problems, which we can address. Those who are enrolled at university are often feeling fatigued, stressed and overwhelmed. Chiropractic may help them have less stress and more energy.
Schedule an Appointment
Contact us today to book a convenient appointment!
CONTACT US »
---
Pregnancy and Pediatric Chiropractor Canberra, Chifley, Woden Valley and Weston Creek ACT
0411 125 637
Pregnancy Chiropractor in Canberra
It's always advisable to see a pregnancy chiropractor in Canberra whether you're experiencing pain in your back, hips, neck, joints, or pelvis. If you do, chiropractic treatment can alleviate your pregnancy-related discomfort. If not, we suggest you undergo therapy throughout your pregnancy regardless as some biomechanical stress may not present with pain. We have the necessary equipment to make you comfortable during the process. 

 
What Does Our Pre-Natal Chiropractor Do?
We will assess the biomechanics of your pelvis to determine whether it's moving well and can accommodate your growing little one.
Apart from performing manual pre-natal chiropractic treatments, we offer toning, dietary, and exercise advice that addresses stress plus aches and pains naturally, enabling you to make health-improving changes without relying on drugs.
We will ask you to complete a history form upon arrival for your first visit. Your kind, compassionate chiropractor, Dr Kathy Knight, requires the details of your pregnancy up to this point and listens to your concerns to give you the best possible care. Feel free to open up to her.
Dr Kathy is certified with the International Chiropractic Paediatric Association and as a Webster Technique practitioner. The Webster technique was specifically developed to support pregnant women. She focuses on helping adult and paediatric patients achieve optimal health and has done so for more than 20 years.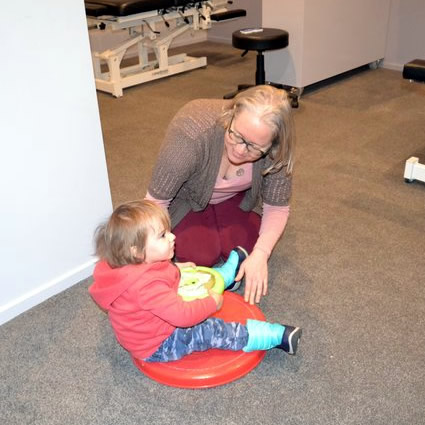 The Benefits of Consulting a Pregnancy Chiropractor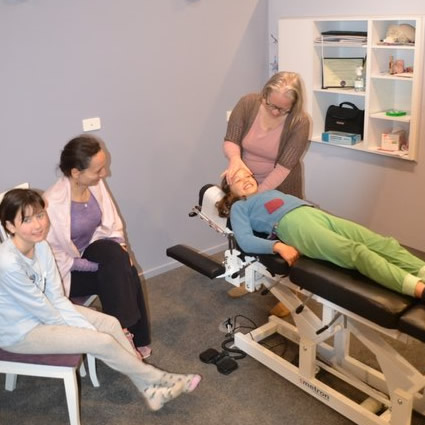 Your centre of gravity can shift as the baby gets heavier, resulting in discomfort as you adjust your posture to accommodate the weight. The position you adopt may lead to a misaligned spine and joints.
Regular chiropractic adjustments can address the increased curve of your back resulting from your protruding abdomen and the changes your pelvis undergoes as your body prepares for labour.
Our pregnancy chiropractor in Canberra focuses on the correct alignment of your spine and the other joints in your body. She adjusts them to restore function and support the nervous system they are connected to.
We offer each patient a personalised approach and provide care plans tailored to their specific needs, based on their state of health, age, and concerns.
Ask yourself whether it may not be worth your while to allow our pregnancy chiro to adjust your pelvis and spine and re-establish balance so you can feel better. Then give us a call to make an appointment.